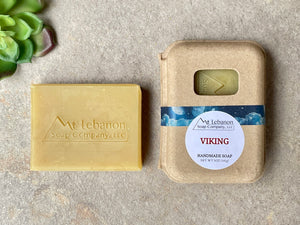 Viking Handmade Bar Soap
Sale price Price $7.50 Regular price
This listing is for 1 (one) bar of Viking Soap packaged like the first photo.
**New changes were implemented in 2022 by the IFRA. The original Viking scent was reformulated, and we did our best to keep the same scent profile. Hope you love it too!!**
This handmade bar soap is crafted with moisturing plant based oils and a unique scent pallet. Sweet yet salty oceanic accords combine with amber, vanilla, cardamom, and citrus. A fresh masculine scent.
Ingredients:
Olive Oil, Water, Coconut & Palm Oils, Sodium Hydroxide, Phthalate Free Fragrance
• Handcrafted in small batches •
• Large 5oz bar •
• Cold Process Soap •
• Eco friendly packaging •
• Each bar clearly lists ALL ingredients •
• Vegan •
• Handcrafted Soap & Cosmetic Guild Member •