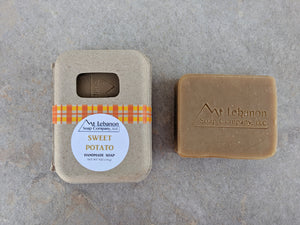 Sweet Potato Soap
Sale price Price $7.50 Regular price
This listing is for one (1) bar of Sweet Potato Soap packaged like the above pictures.
This soap has a warm, slightly sweet aroma packed with real sweet potato puree. Made with olive, coconut, sustainable palm, castor oil, and fresh sweet potato purée. Sweet potatoes have high levels of
beta-carotene, so the color of your soap may appear darker. The delicious notes of vanilla, ground nutmeg, brown sugar, and sweet potato seem fitting for fall. 
-Cold Process Soap
- Large 5oz Bar
- Ready to Ship
- Eco Freindly Packaging
- Ingredients listed on Package
- Supports Summer, a Girl with Down Syndrome
Ingredients:
Olive Oil, Water, Coconut Oil, Palm Oil, Sodium Hydroxide, Sweet Potato Puree, Castor Oil, Phthalate Free Fragrance
To keep a longer lasting bar, be sure to use a proper draining dish.