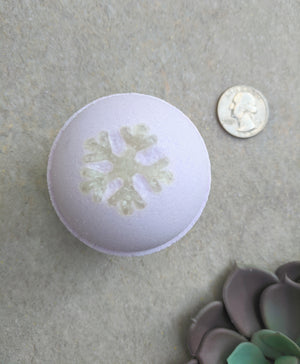 Sugar Plum Fairy Bath Bomb
Sale price Price $6.00 Regular price
This listing is for one (1) Sugar Plum Fairy Bath Bomb shrink wrapped and packaged like the above pictures.
This bath bomb makes the cutest small gift or stocking stuffer. Drop into a tub of warm water to let the aroma of sweet, sparkling plums surround you. Best part is that snowflake is actually soap! That's right the center is a tiny cold process, lavender soap.
Ingredients:
Sodium Bicarbonate, Citric Acid, Tapioca Starch, Coconut Milk Powder, Kaolin Clay, Apricot Oil, Fragrance, Polysorbate 80, Mica
Snowflake: Olive Oil, Water, Coconut Oil, Palm Oil, Sodium Hydroxide, Lavender Essential Oil
Bath Bombs are essentially baking soda & citric acid which create the reaction in water. Different ingredients add a different element to the bath bomb.
Tapioca starch adds a silkiness to the water.
Coconut milk powder adds some foam & bubbles.
Kaolin Clay makes the bomb hard.
Apricot Oil is high in essential fatty acids and very gentle on the skin, it's also easily absorbed so you don't have the greasy feeling.
Polysorbate 80 to disperse the oils in your bath water so you don't get that oil ring in your tub.
Each bath bomb weights 3.25oz and is 2inches in diameter. These are shrink-wrapped using 
Biolefin™ an Oxo-Biodegradeable Film. A corner is left folded for easier opening.