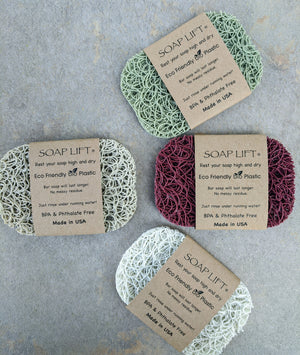 Soap Lift - Draining Dish For Bar Soap
Sale price Price $5.50 Regular price
Hate how soggy your soap gets when you use traditional soap dishes?
The Soap Lift is small bioplastic pad that lifts soap out of standing water enabling it to dry faster and last longer which is so important for handmade soaps! The Soap Lift is a patent pending, trademarked product made from a durable corn based bioplastic that is 100% made in the USA and REACH compliant.
I love this dish because it's simple enough to use on the counter alone, or trims easy to use as a liner with a decorative bar soap dish. Plus it cleans easy at the sink!
You can now pair these with a Waterfall Dish:
 https://www.mtlebanonsoapcompany.com/products/waterfall-dish-use-with-soap-lift