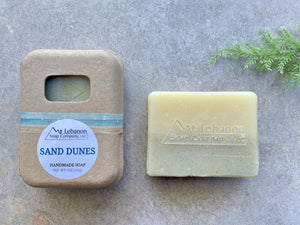 Sand Dunes Exfoliating Soap
Sale price Price $7.50 Regular price
This listing is for one (1) bar of Sand Dunes Soap packaged like the above pictures.

This handmade bar soap has a salty ocean air scent. With notes of fresh rain, lily of the valley, jasmine, leafy greens, pine and musk all mingling together. As you can see from the pictures, this soap bar is dual sided. 1/2 of the bar is silky smooth filled with skin loving moisturizers, while the other 1/2 is extra exfoliating packed with real New Jersey sand. Sand makes a great exfoliant, helping to remove dead skin cells leaving behind glowing skin.


• Handcrafted in small batches •
• Large 5oz bar •
• Cold Process Soap •
• Eco friendly packaging •
• Each bar clearly lists ALL ingredients •
• Vegan •
• Handcrafted Soap & Cosmetic Guild Member •

Ingredients:
Olive Oil, Water, Coconut & Palm Oils, Sodium Hydroxide, Sweet Almond Oil, Fragrance, Sand from the Jersey Shore.