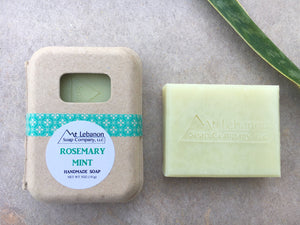 Rosemary Mint All Natural Bar Soap
Sale price Price $7.50 Regular price
This listing is for one (1) bar of Rosemary Mint Soap packaged like the above pictures.
This all natural soap is scented with only pure essential oils and a moisturizing, gentle blend of plant based oils. Rosemary and peppermint are truly an invigorating scent blend. Rosemary keeps your mind alert and focused while lifting your spirit. Peppermint clears the mind and stimulates mental activity. No wonder this is a popular blend in the beauty world. Enjoy the inspiring freshness of mint and rosemary in your next morning shower.
• Handcrafted in small batches •
• Large 5oz bar •
• All Natural •
• Cold Process Soap •
• Eco friendly packaging •
• Each bar clearly lists ALL ingredients •
• Vegan •
• Handcrafted Soap & Cosmetic Guild Member •
• Proceeds benifit a little girl, Summer, with Down Syndrome•
Ingredients:
Olive Oil, Water, Coconut & Palm Oils, Sodium Hydroxide, Peppermint & Rosemary Essential Oils.
Proceeds of this bar go into a special needs trust. Together building a future for Summer, a smart and beautiful girl with Down Syndrome. Follow us to learn more: Www.facebook.com/MtLebanonSoapCompany/
Www.instagram.com/MtLebanonSoapCompany/
Our soaps never contain
•detergents
•fillers
•phthalates
• parabens
•preservatives
•sulfates.
Just skin loving oils with lots of natural glycerin created by the simple chemical reaction called saponification.