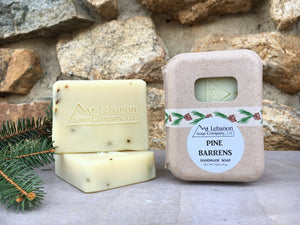 Pine Barrens Handcrafted Soap - NJ Gift for Men
Sale price Price $7.50 Regular price
This listing is for 1 (one) bar of Pine Barrens Soap packaged like the above pictures.
We love this soap- it's a perfect blend of pine showcasing the Pinelands in southern New Jersey. The scent is fresh, brisk, masculine scent with actual pine needles added. It's a perfect little something for that special man.
We make our soap from scratch using the cold process method. Handmade in small batches, individually stamped, we beveled edges and package in a recycled cardboard box. This listing is for one 5oz bar delivered in the box shown in the pictures above.
Ingredients:
Olive Oil, Water, Coconut & Palm Oils, Sodium Hydroxide, Phthalate Free Fragrance & Pine Needles
Our soaps never contain any detergents, fillers, phthalates, parabens, or sulfates. Just skin loving oils with lots of natural glycerin created by the simple chemical reaction called saponification.