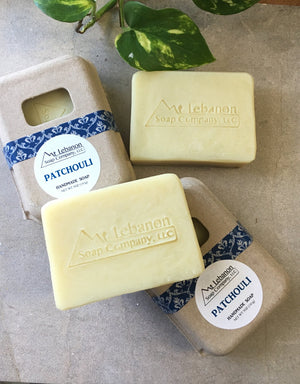 Patchouli Soap
Sale price Price $7.50 Regular price
This listing is for one (1) bar of Patchouli Soap packaged like the pictures above.
Do you love the scent of patchouli? Patchouli is an earthy aroma you either love or hate. This bar soap is scented with patchouli essential oil and made with lots of pure olive oil making a moisturizing and gentle natural soap.
We make our soap from scratch using the cold process method. Handmade in small batches, individually stamped, we beveled edges and package in a recycled cardboard box. This listing is for one 5oz bar delivered in the box shown in the pictures above.
Ingredients:
Olive Oil, Water, Coconut & Palm Oils, Sodium Hydroxide, Patchouli Essential Oil
We are a Handcrafted Soap and Cosmetic Guild member
Our soaps do not contain any detergents, fillers, phthalates, parabens, preservatives, or sulfates. Just skin loving oils with lots of natural glycerin created by the simple chemical reaction called saponification.