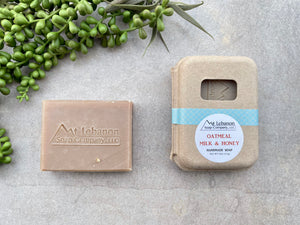 Oatmeal Milk and Honey Soap
Sale price Price $7.50 Regular price
Oatmeal Milk and Honey Soap
This handmade soap is made with vitamin packed goat milk, local honey, and oatmeal. Goat milk is high in vitamins D, C, B1, B6, B12 and E as well as alpha- hydroxyl acids. Local organic honey is added for it hygroscopic nature ( absorbing moisture keeping skin hydrated). Soothing and slightly exfoliating oatmeal is the finishing touch to this wonderfully cleansing soap. The scent is a sweet and toasty melding of three fabulous scents together. The luxurious nature of this Oatmeal Milk and Honey soap keep it as a customer favorite.
• Listing is for 1 bar of soap •
• Handcrafted in small batches •
• Large 5oz bar •
• Goat Milk Soap •
• Cold Process Soap •
• Eco friendly packaging •
• Each bar clearly lists ALL ingredients •
• Handcrafted Soap & Cosmetic Guild Member •
Ingredients:
Olive & Coconut Oils, Goat Milk, Sustainable Palm Oil, Water, Sodium Hydroxide, Phthalate Free Fragrance, Oatmeal, Local NJ Honey
Our soaps do not contain any detergents, fillers, phthalates, parabens, preservatives, or sulfates. Just skin loving oils with lots of natural glycerin created by the simple chemical reaction called saponification.