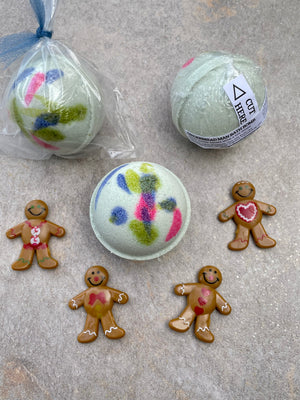 Gingerbread Man Bath Bomb - Toy Inside
Sale price Price $6.00 Regular price
This listing is for one (1) gingerbread bath bomb shrink wrapped, labeled, and closed with tulle.

Need a unique kid gift for the holidays? These are perfect to bring in the holiday spirit. Each surprise toy bath bomb has a gingerbread man inside. Plop into a full tub of water and watch to see which one you get! The aroma is a sweet gingerbread/cookie/vanilla scent.

Each bath bomb is 2 inches in diameter and weigh 3.4oz. These are shrink-wrapped using Biolefin™ an Oxo-Biodegradeable Film. A tab is left folded for easier opening. The bath bomb comes packaged in a plastic bag closed with tulle, perfect for gift giving.

Ingredients: sodium bicarbonate, citric acid, apricot oil, tapioca starch, essential oils/fragrance, polysorbate 80, kaolin clay, coconut milk powder, mica

Bath Bombs are essentially baking soda & citric acid which create the reaction in water. Different ingredients add a different element to the bath bomb. Just open one and drop into a tub of warm water.

•Tapioca starch adds a silkiness to the water.

•Coconut milk powder adds some foam & bubbles.

•Kaolin Clay makes the bomb hard.

•Apricot Oil is high in essential fatty acids and very gentle on the skin, it's also easily absorbed so you don't have the greasy feeling.

•Polysorbate 80 to disperse the oils in your bath water so you don't get that oil ring in your tub.

These are handmade and handpainted, so there might be slight color variation in bath bombs.