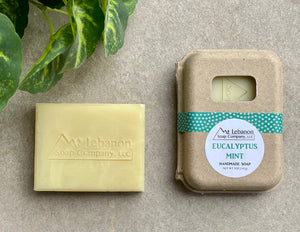 Eucalyptus Mint Soap
Sale price Price $7.50 Regular price
This listing is for one bar of Eucalyptus Mint soap packaged like the above pictures.
Breathe deep with this relaxing, herbal bar soap. Lots of Eucalyptus with a touch of peppermint and spearmint essential oils bring this soap to life. Plant based oils with a creamy lather.
Ingredients: Olive Oil, Water, Coconut Oil, Palm Oil, Sodium Hydroxide, Eucalyptus, Peppermint, & Spearmint Essential Oils.
•Large 5oz Bar
• Handmade in Small Batches
• Natural Plant Based Ingredients