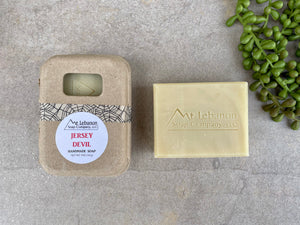 Jersey Devil - New Jersey Gift
Sale price Price $7.50 Regular price
This listing is for one (1) bar of Jersey Devil Soap packaged like the above pictures.
Of course New Jersey has a state demon. This Jersey Devil Soap has base notes of patchouli and cedarwood with an earthy touch of rosemary and the bright top note of lemon. It's mysterious and magical blend of essential oils. Like all of our vegan, handmade soap our lather is rich and creamy.
Ingredients:
Olive Oil, Water, Coconut and Palm (sustainable) Oils, Sodium Hydroxide & Cedarwood, Patchouli, Lemon and Rosemary Essential Oils
Our soaps never contain any detergents, fillers, phthalates, parabens, preservatives, or sulfates. Just skin loving oils with lots of natural glycerin created by the simple chemical reaction called saponification.