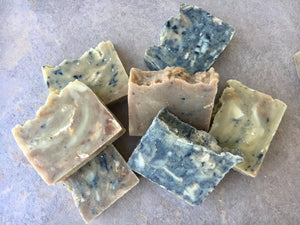 Bits and Pieces Handmade Soap
Sale price Price $2.75 Regular price
Bits and Pieces Soap is exactly that, a little bit of this and a little of that. As you look through our other handmade soap listings you will notice we can use just about anything in our soap, from beer to cranberry purée. Bits and Pieces is rebatched soap bits from lots of different batches, making it impossible to list the ingredients. We decided to turn our waste into luxurious bubbly, yet ugly, soap. Thus making an incredibly affordable bar of soap with amazing skin loving oils. Where else can you find a long lasting, bubbly bar of detergent free soap for under $3?
The scent of this soap is a subtle clean scent. I find it to be a pleasing non discriptive, scent. No additional fragrance was added when we rebatched. So the original scent remains, however becomes subdued.
This listing is for 1 bar of naked soap. There is no wrapping / decorative box included with this variation. These are approximately the same size as our regular bars. Possibly a touch smaller. They range from 4oz- 5oz. Please allow for color variation between batches as these are handmade, from lots of different batches.
Proceeds of this bar go into a special needs trust. Together building a future for Summer, a smart and beautiful girl with Down Syndrome. Follow us to learn more:
Www.facebook.com/mtlebanonsoapcompany/
Www.instagram.com/mtlebanonsoapcompany/
To get the most out of your handmade soap, be sure to use a soap dish that allows for drainage. Soap will last longer when allowed to fully dry between uses.