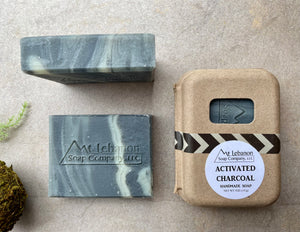 Activated Charcoal Facial Soap
Sale price Price $7.50 Regular price
This listing is for one (1) bar of Activated Charcoal Soap packaged like the first photo.
When we were first asked to make a charcoal soap, I figured worst case it would be a beautiful facial bar. Well, beauty didn't stop there. This all natural soap has quickly became our best selling soap for over 10 years, and it sells out regularly. Carefully crafting this facial soap with shea butter, bamboo charcoal and pure essential oils it's an amazing bar. Don't take just our word for it: check out our reviews!
Ingredients:
Olive Oil, Water, Coconut & Palm Oils, Shea Butter, Sodium Hydroxide, Castor Oil, Activated Charcoal, Lavender, Tea Tree & Peppermint Essential Oils.
• Handcrafted in small batches •
• Large 5oz bar •
• All Natural •
• Cold Process Soap •
• Eco friendly packaging •
• Each bar clearly lists ALL ingredients •
• Vegan •
• Handcrafted Soap & Cosmetic Guild Member •
Proceeds of this bar go into a special needs trust. Together building a future for Summer, a smart and beautiful girl with Down Syndrome. Follow us to learn more: Www.facebook.com/MtLebanonSoapCompany/
Www.instagram.com/MtLebanonSoapCompany/